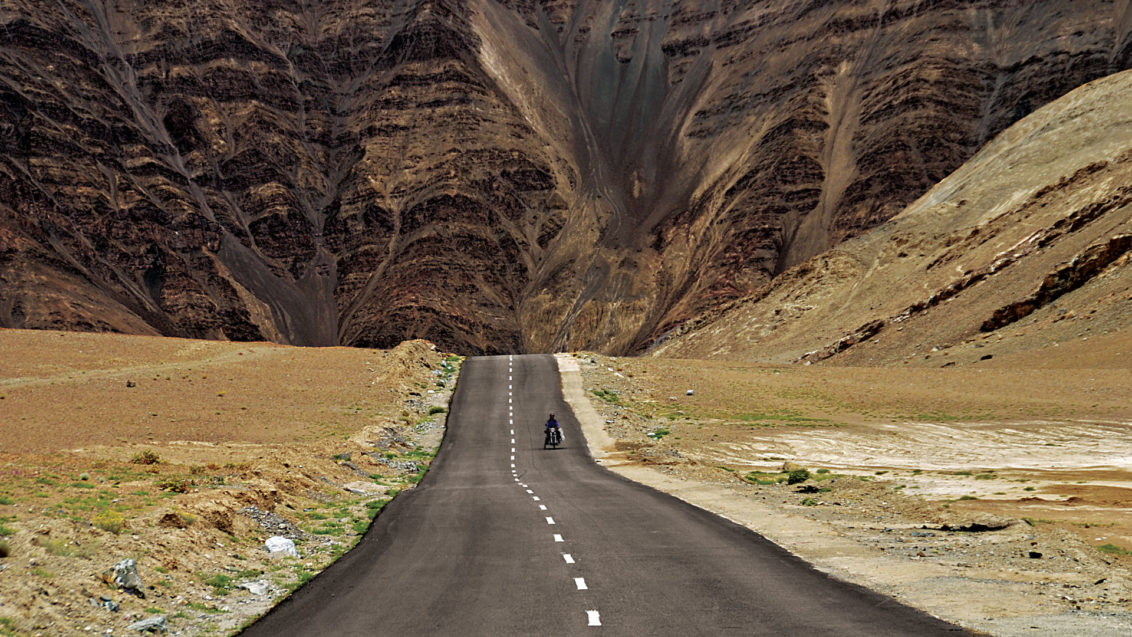 Ladakh is a region in Indian state of Jammu and Kashmir that currently extends from the Kunlun mountain range to the main Great Himalayas to the south, inhabited by people of Indo-Aryan and Tibetan descent. Ladakh is a Adventure destination have Snow clad mountains throughout the year with beautiful scenery in the backdrop. Ladakh have amazing ecosystem with Lakes, Mountains and Rivers with low fly beautiful Clouds.
Major Sightseeing Cities
Leh, Nubra Valley, Pangong
Best Months to Visit Ladakh
May, June, July, August, September, October, November
Airport
Leh Domestic Airport (IXL), Leh
Leh
Leh (Ladakh tour packages), a high-desert city in the Himalayas, is the capital of the Leh region in northern India's Jammu and Kashmir state. Originally a stop for trading caravans, Leh is now known for its Buddhist sites and nearby trekking areas. Massive 17th-century Leh Palace, modeled on the Dalai Lama's former home (Tibet's Potala Palace), overlooks the old town's bazaar and mazelike lanes.
Popular Leh Tourism Attractions
Thikse Monastery, Shanti Stupa, Magnetic Hill, Leh Palace, Phyang Monastery
Other Popular Tourist Spot Nearby Leh
Sham Region, at a distance of 24 kilometers from Leh (Likir, Alchi Monastery, Gurudwara Patthar Sahib (A Gurudwara constructed & maintained by the Indian Army), Hall of Fame (A Museum developed by the Indian Army) and Sangam (Confluence of Zanskar & Indus River).
Nubra Valley
Nubra is a tri-armed valley located to the north east of Ladakh valley. Diskit the capital of Nubra is about 150 km north from Leh town, the capital of Ladakh district, India. Local scholars say that its original name was Ldumra. Nubra Valley is especially famous for camping on the blank of river.
The valley was open for tourists till Hunder (the land of sand dunes) until 2010. The region beyond Hunder gives way to a greener region of Ladakh because of its lower altitude. The village of Turtuk which was unseen by tourists till 2010 is a virgin destination for people who seek peace and an interaction with a tribal community of Ladakh. The village is stuffed with apricot trees and children. The local tribe, Balti, follows its age old customs in their lifestyle and speak a language which is just spoken and not written. For tourists Turtuk offers serene camping sites with environment friendly infrastructure.
Pangong Lake
Pangong Tso, Tibetan for "high grassland lake", also referred to as Pangong Lake, is an endorheic lake in the Himalayas situated at a height of about 4,350 m. It is 134 km long and extends from India to China. Pangong Lake is situated at about 14,200 feet and is the world's highest saltwater lake. The landscape in the backdrop of the Pangong Lake makes it a one of a kind experience.
Pangong Lake lies in the remotest corner of Ladakh and is blessed with exceptional Lakeside and Himalayan views. This Lake is a destination for photographers and experiential travelers to arrive for witnessing exceptional natural beauty.
Movies Shooting on this Lake:
Indian filmmaker Mani Ratnam's Dil Se (1998) in the song "Satrangi Re" starring Shah Rukh Khan & Manisha Koirala.

Featured as a filming location in The Fall (2006).

Some parts of the 2008 film, Heroes (2008).

Climax scene of the 2009 film, 3 Idiots.

Parts of the 2012 film Jab Tak Hai Jaan, in particular, Anushka Sharma's bikini scene were shot here. This was Actor Shah Rukh Khan's second film recorded here.

Divya Khosla Kumar 2016 Hindi film Sanam Re[13]

Surra Surra song from Shakti (2011).

Subah Hogee song from Waqt: The Race Against Time.

Pyar Ke Silsile song from Na Jaane Kabse (2011).

Dil Tera Ho Gaya song from Taur Mittran Di.

Dil Haara song from Tashan starring Saif Ali Khan & Kareena Kapoor

Banjarey song from the movie Fugly

Telugu song from Aagadu starring Mahesh Babu & Tamannaah

Enna Aachu song in the 2011 Tamil movie Vedi
Choose your Own Itinerary
| | | | | |
| --- | --- | --- | --- | --- |
| Duration | Pick up | Itinerary | Drop | Operational in |
| 04 Days | Leh | Leh ( Arrive )- Leh – Khardongla – Leh Drop | Leh | Round the Year |
| 05 Days | Leh | Leh ( Arrive )- Leh – Nubra Valley – Leh Drop | Leh | Round the Year |
| 05 Days | Leh | Leh ( Arrive )- Leh – Pangong Lake – Khardongla – Leh Drop | Leh | Round the Year |
| 06 Days | Leh | Leh ( Arrive )- Sham region – Nubra Valley  – Pangong Lake –  Leh Drop | Leh | Round the Year |
| 07 Days | Leh | Leh ( Arrive )- Sham region – Pangong Lake – Khardongla –  Tsomoriri Lake – Leh Drop | Leh | Round the Year |
| 07 Days | Leh | Leh ( Arrive )- Sham region – Pangong Lake –  Nubra Valley  – Leh Drop | Leh | Round the Year |
| 08 Days | Leh | Leh ( Arrive )- Lamayuru – Nubra Valley  – Pangong Lake –  Leh Drop | Leh | Round the Year |
| 08 Days | Leh | Leh ( Arrive )- Lamayuru – Sham region – Pangong Lake –  Nubra Valley  – Tsomoriri Lake – Sarchu – Leh Drop | Leh | Round the Year |
| 08 Days | Srinagar | Srinagar ( Arrive )- Kargil – Padum – Rangdum – Dha – Tsomoriri Lake –  Leh Drop | Leh | Mid-June till Mid November |
| 08 Days | Srinagar | Srinagar ( Arrive )- Kargil – Lamayuru – Leh – Nubra Valley  – Pangong Lake –  Leh Drop | Leh | Mid-May to Mid-November |